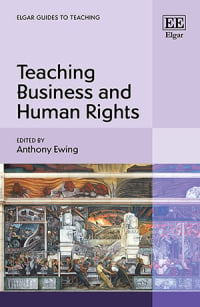 We are thrilled to announce that our Human Rights faculty recently published book chapters as part of the volume Teaching Business and Human Rights, edited by Dr. Anthony Ewing. Shareen Hertel, Davis Chacón-Hurtado, and Sandra Sirota have co-authored a chapter "Engineering for Human Rights," outlining central principles of the field and teaching approaches for fostering diverse professional experiences for students.
Similarly, our colleague Rachel Chambers wrote a chapter "Judicial Remedy" within the same edited volume; her chapter discussed judicial mechanisms in the business and human rights field, especially tort litigation and case law developments across jurisdictions, as well as pedagogical approaches.
Published as part of the Elgar Guides for Teaching, the edited volume as a whole serves as a valuable resource for educators, students, and practitioners seeking to navigate the complex field of business and human rights.
Links to the book Teaching Business and Human Rights:
https://doi.org/10.4337/9781802201130
"Engineering for Human Rights" chapter: https://www.elgaronline.com/edcollchap/book/9781802201130/book-part-9781802201130-37.xml
"Judicial Remedy" chapter: https://www.elgaronline.com/edcollchap/book/9781802201130/book-part-9781802201130-23.xml
---